Fireplaces & Fire Hearths
We can design and install high quality, attractive and durable fireplaces and hearths.
Quality Fireplaces and Hearths
Solid fuel and live flame fires are currently more popular than at any time since every home relied on them to heat and light the household.  Developers and interior designers currently love to include real fireplaces as features of their most prestigious homes, and manufacturers have responded by producing attractive and stylish modern stoves and fire surrounds.
A fireplace makes an inviting centrepiece for any living room, so why not use the opportunity to install a decorative product made from the finest, most striking materials?  At McCaffreys, we go to great lengths to bring our customers the most exclusive fire hearths and fireplaces Brighton has seen.
A traditional fireplace is made up of two pieces: the fire surround, which is the arch above the opening, and the hearth which is the flat base on which everything else rests.  In bygone days, fire hearths were often made of slate or some other hard material, and would catch sparks and embers from the fire for the protection of the household.  Modern fireplace hearths no longer have to perform this practical function, but many homeowners still love them for their character and decorative value.  Modern fireplace hearths and surrounds draw attention to the fire at the centre, and make an appealing border for multi fuel stoves, and open-style gas and electric fires alike.  And when they are made from such attractive stones as marble and granite, they can lend any drawing room or lounge a distinguished air.
With a strong focus on attention to detail, our workmanship is guaranteed to meet high standards. Combine this with our great customer service and you can expect a professional and friendly service from start to finish.
The fire surrounds and hearths for sale from our online store are all of the same high quality as our kitchen and bathroom worktops.  Easy to clean and professionally installed, these are the stone fire hearths and fireplaces Brighton homes deserve.  Get in touch with our staff today to find out more.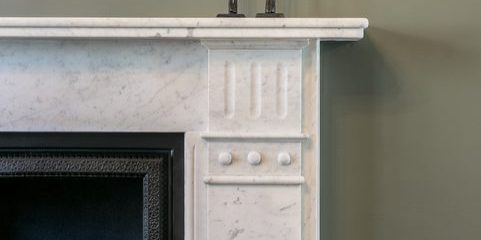 Fireplaces and Hearth Projects
We'd be happy to help you, whether you are looking for assistance selecting the right product for you or are looking for a reliable company to take care of a kitchen re-design.
Our customers can expect a superior and focused service every time.
We are equipped to cover all areas across the South of England.
07849 889 884 / 01903 950745
info@mccaffreysgranite.co.uk