Our granite worktops combine natural beauty and skilled craftsmanship, offering a finished result that is attractive and durable.
For centuries, granite has been highly prized as an architectural stone due to its legendary hardness.  As a product of volcanic activity, granite is formed under extreme conditions which endow it with unique physical properties and an attractive appearance which belies its robustness.  As a result, granite has become a byword for strength and has adorned famous buildings in many of the world's great cities.
In recent times, materials technology has developed leading to a trend away from using stone as a structural material.  These days, it is much more common to find granite and other types of igneous rock such as marble in the interiors of dwellings and other structures.  But that isn't to say those once prized features mentioned above are no longer appreciated.  In demanding environments such as kitchens and bathrooms, granite countertops continue to make full use of this stone's hard-wearing nature and inherent beauty.
For a kitchen which will continue to look great day-in and day-out year after year, it really is hard to beat granite stone worktops.  The non-porous surface will resist heat, stains, and chemicals, while the occasional dropped pot or utensil wont even leave a mark on this famously hard stone.  Many budget kitchen worktops are made from inferior materials coated with a surface covering which is designed to imitate granite, but sadly householders quickly find these cheaper options just aren't up to the job.  Such units quickly become chipped and scuffed, and end up looking worn and tired in a short space of time.
On the other hand, granite kitchen worktops from McCaffreys Granite are made to exacting standards from high quality stone.  Imagine how your home might look when fitted out with bespoke granite countertops, each one made to measure with bevelled edges and windows for sinks and other fittings, all polished to a mirror-like shine.  Get ready for your granite stone worktops to become a talking point when guests come to call!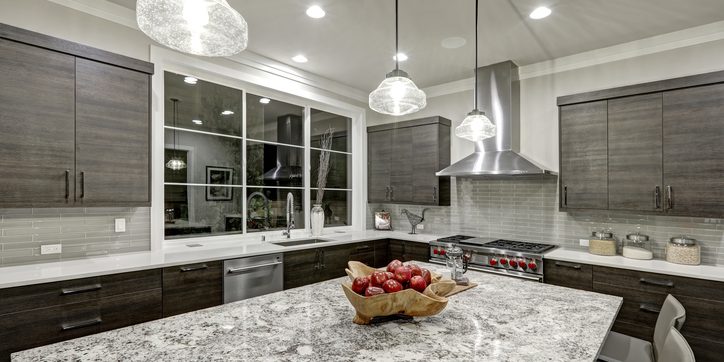 These truly are the granite worktops Brighton homes deserve, so if you've been searching for 'Granite Worktops Near Me', get in touch with us today.
We'd be happy to help you, whether you are looking for assistance selecting the right product for you or are looking for a reliable company to take care of a kitchen re-design.
Our customers can expect a superior and focused service every time.
We are equipped to cover all areas across the South of England.
07849 889 884 / 01903 950745
info@mccaffreysgranite.co.uk