Quartz is a engineered material made from 90% ground quartz and 8-10% resin, polymers and pigments. Ideal for any kitchen or bathroom surface.
For those who have very specific requirements for their bathroom and kitchen worktops quartz may be just the material you're looking for.  And here at McCaffreys Granite, we supply quartz worktops Brighton householders will be proud of.
For work surfaces to be resistant to contamination, they should be made from non-porous materials.  Such a composition prevents staining, and does not allow anywhere for bacteria and mould to hide.  For this reason, many householders choose worktops made from naturally impervious materials like granite and marble, and that's fine.  But it's worth remembering that there are also artificial materials which offer the same quality.
Natural quartz is a silicon based mineral which is quarried from the earth.  It naturally forms attractive crystals which catch the light and give it a natural sparkle.  And if you're as concerned with sustainability as we are, you'll be happy to know that quartz is the second most abundant mineral in the earth's crust – we could install quartz countertops UK wide without depleting the materials!  Pure quartz is colourless, but infiltration by other elements mean it is often found in an array of beautiful colours.
Quartz kitchen countertops are made by embedding ground stone in resin which is then moulded to shape.  The resin makes for a smooth, easy-to-clean surface, while the ground quartz adds durability and an attractive finish.  And thanks to careful colour matching, we can supply quartz countertops to complement any colour scheme or style of decor.
If you're wondering, "Where can I find quartz worktops near me?", you've come to the right place.  McCaffreys Granite have been supplying high quality bespoke countertops to homes, businesses, and other local organizations for years.  All our products are carefully made to measure, and installed by our own fully qualified and professional team.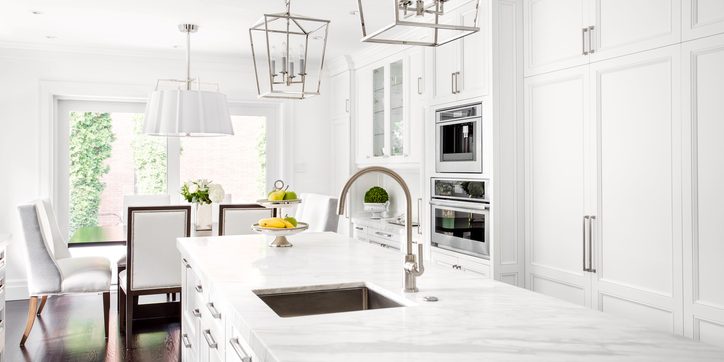 For the best deals on bespoke quartz kitchen worktops Brighton residents should contact McCaffreys Granite directly and speak to our friendly and knowledgeable staff.  We also work in the areas of Portsmouth & Chichester, so there's no need for anyone to miss out on our vast range of product options and outstanding customer service.
We'd be happy to help you, whether you are looking for assistance selecting the right product for you or are looking for a reliable company to take care of a kitchen re-design.
Our customers can expect a superior and focused service every time.
We are equipped to cover all areas across the South of England.
07849 889 884 / 01903 950745
info@mccaffreysgranite.co.uk